Crystal Cove Alliance
Newport Landing Whale Watching proudly supports Crystal Cove Alliance, the non-profit partner of Crystal Cove State Park, which is dedicated to education, conservation, and restoration efforts within the State Park and its Marine Conservation Area.
A portion of each ticket for Newport Landing Whale Watching goes to support the Crystal Cove Alliance and its many educational and environmental efforts surrounding one of the last pristine coastlines remaining in Southern California.
Crystal Cove Alliance's educational efforts include unique, innovative school programs focused on STEM and environmental literacy. Programs take place in an onsite Park and Marine Research Facility based out of a historic cottage, in the Berns Environmental Study Loop, and on the water with Newport Landing. For more information on the many different programs and activities offered, visit Crystal Cove Alliance's webpage.
Thanks to the enactment of a new Marine Protected Area (MPA) along our Orange County coast in 2012, Newport Beach now consists of a sizable State Marine Conservation Area (SMCA). This designation creates an area of protection along Big Corona Beach and expands into the southern coves within Crystal Cove State Park. This beautiful stretch of protected coastline is just one in a cluster of four adjoining MPA's off shore of Orange County.
Creating a designated area of the coastline that is off limits to certain recreational activities or commercial sportfishing is an arduous task that we've commended and supported. Through this collaborative public process the Marine Protected Areas off our coast are now, not only preserving biological diversity of marine life, but they've aided in providing an opportunity for people to experience and study the animals that are undisturbed by fishing and other impacts. In fact Newport Landing in partnership with Crystal Cove Alliance, have created special educational STEM cruises which allow students to act as citizen scientists in Crystal Cove's MPA, studying and monitoring the changes in biodiversity within the underwater State Park since it became an MPA in 2012.
Not only is this Marine Protected Area minutes from the Newport Beach Harbor, but it supports a growing healthy marine ecosystem. It promotes healthy water quality in the surrounding areas, making it perfect for swimming and snorkeling. But this healthy water quality also promotes survival of plankton. These productive waters in the MPA are rich in plankton and fish larvae, as seen during our plankton tow's within the State Park. Seeing lots of fish larvae within our samples means the fish are happy, healthy and reproducing. An abundant amount of plankton found in this coastal area means that animals which eat plankton (bottom of the food chain) will be nearby. Thus, animals such as small schooling fish like anchovies, sardines, mackerel and squid can be found close to the coast. Some large Baleen Whales, such as the Blue Whales feed exclusively on these tiny plankton, or more specifically krill.
Marine birds such as Terns, Shearwaters, Pelicans and a host of others eat these abundant schooling baitfish. But let's not forget that Seals, Sea Lions, Dolphins and large Baleen Whales also feed on these small schooling fish. All of this together adds up to create a perfect environment to support an abundance of marine birds, pinnipeds, and cetaceans year round. This is why Newport Beach is one of the top whale watching and marine mammal viewing destinations in the world. Its coastal waters are perfectly preserved thank to the assistance of its local MPA, which allows guests to see whales and dolphin throughout the year, all while preserving its unique and flourishing marine environment. Supporting Crystal Cove Alliance was our thank you for this amazing park system.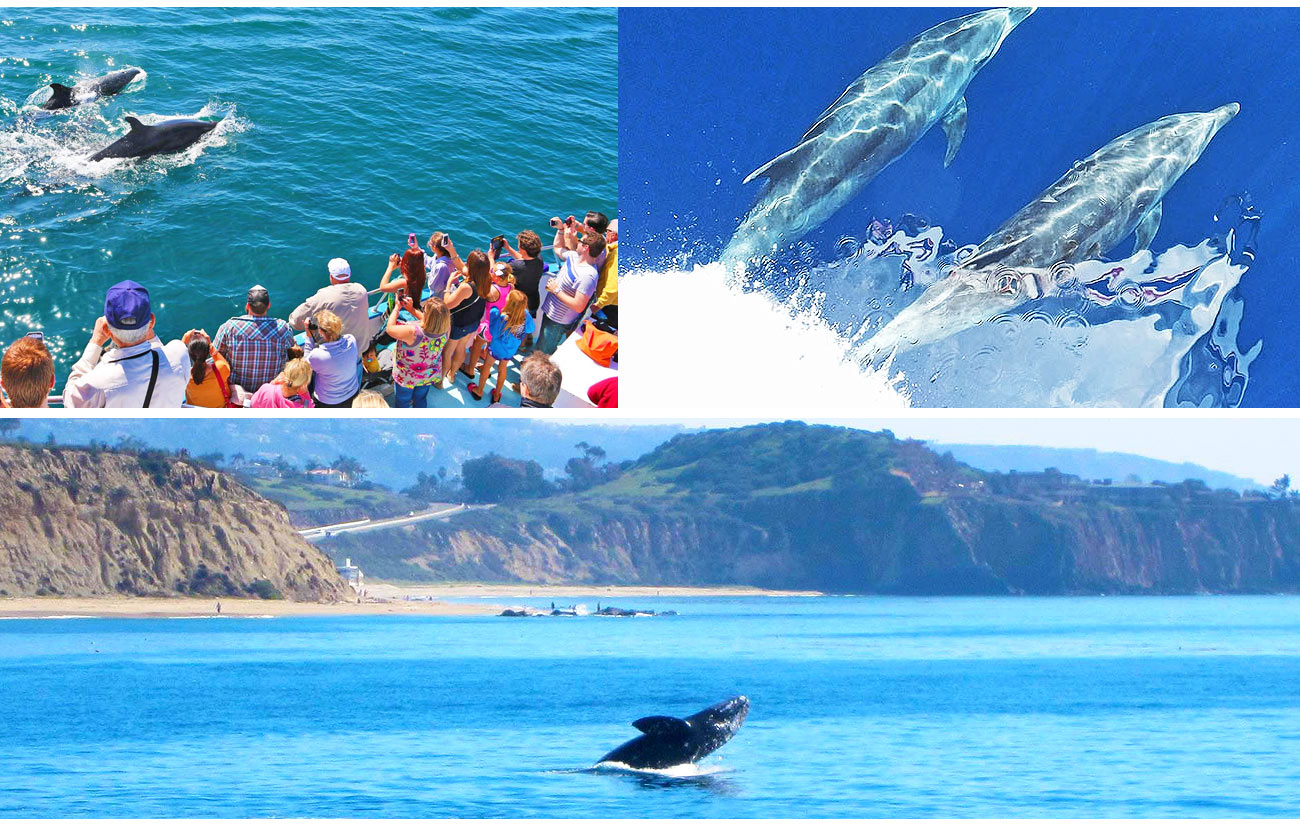 SHARE
FOR RESERVATIONS, CALL (949) 675-0551