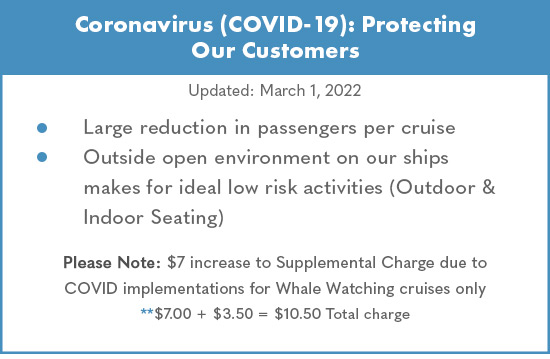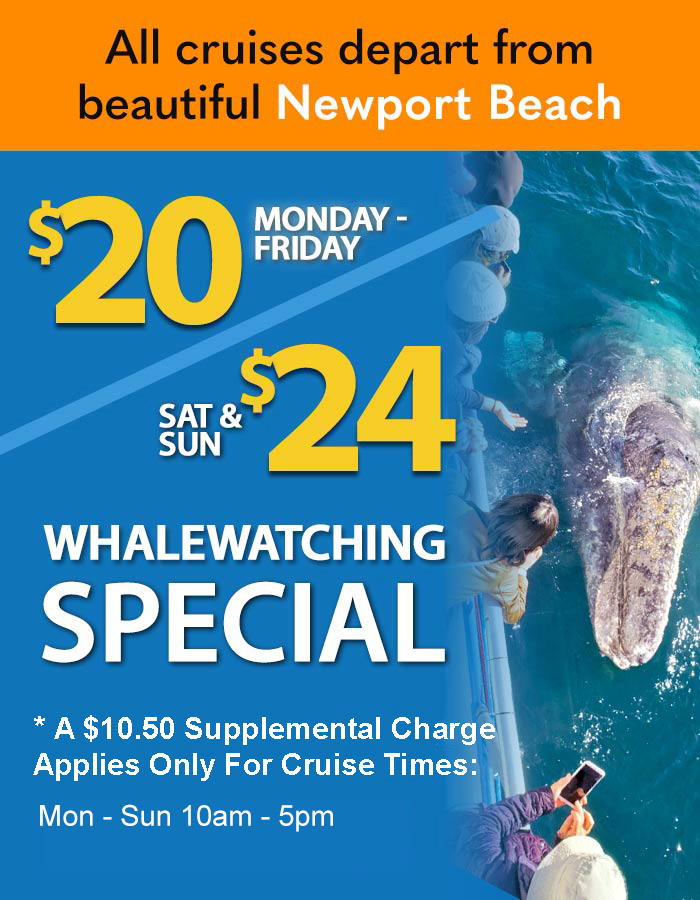 $13 Whalewatching Special


CLICK HERE TO CLAIM OFFER
Attention San Diego Whale Watching Visitors
For San Diego whale watching, Newport Landing provides year round whale watching cruises multiple times daily departing north of San Diego in Newport Beach. Departing from a natural bay it only takes a few minutes to leave the bay's entrance and reach the productive waters for sighting whales and dolphin. One of the largest marine protected parks in the greater San Diego/Southern California area begins just outside Newport and stretches for over 15 miles south. This giant marine sanctuary was created to protect one of the richest marine environments in the world. The protected waters provide world renowned whale watching opportunities for San Diego visitors year round. With such a rich marine environment, whale watching cruises only need from 2-2.5 hours to get great sightings of whales and dolphin in the same cruise. Blue whales, Humpback whales, Gray whales, Finback whales, Minke whales, Risso dolphin, Bottlenose dolphin, common dolphin, and pacific white sided dolphin are just some of the mammals viewed.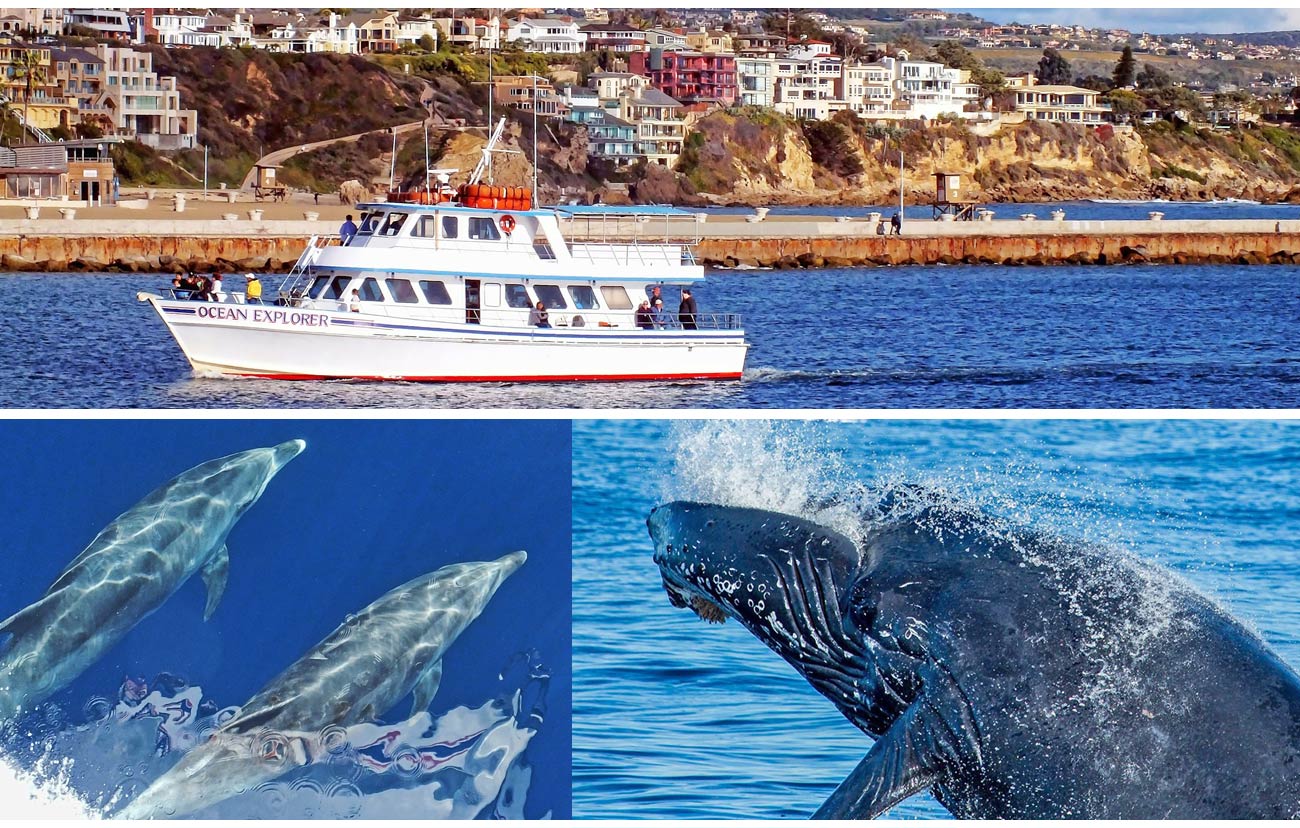 Whale Watching for San Diego Visitors

During the Winter and Spring, Whale Watching visitors from San Diego will be able to view the annual Gray Whale migration. Thousands of Gray Whales travel along the California coastline each year, heading to the warm, salty lagoons of Mexico. They make this 6,000 mile trek for breeding and calving purposes, and after spending about a month in the lagoons of Mexico, they will turn around and head back up the coast to their feeding grounds in the Bering Strait of Alaska.
In the Summer and Fall, San Diego whale watching visitors will be able to view the gigantic Blue Whale along our coast. The Blue Whale is the largest mammal in the world with an average length of over 80 feet. This magnificent marine mammal weighs in at over 300,000 pounds and each Blue Whale must consume 4 to 6 tons of krill each day. This is always an amazing sight for all our San Diego visitors on our whale watching tours.
Whale Watching San Diego visitors will also be able to see several other species of whales throughout the year as well as large pods of Bottlenose Dolphins and Common Dolphins. Harbor Seals and California Lions are a common sight right out of the harbor, as large colonies can be spotted frequently along our Whale Watching cruise route.
---
Helpful Hints to Maximize Your Whale Watching Experience
Great Weather & Calm Seas The Norm For Whale Watching Cruises. However Even In Sunshine State Weather Can Be Factor For Your Whale Watching Cruise.
Lucky the weather in San Diego & Southern California is very mild and unlike many other world renowned whale watching destinations calm days and flat seas are the norm with over 90% of the year. Still even in Southern California weather can present a challenge. Try to avoid large storm systems during the winter months and the day after the storm system passes is usually windy. Surprising light showers typically doesn't have much wind associated with it and waters can be flat calm so rain doesn't necessarily mean poor whale watching conditions well except for possibility of getting wet. Stronger storms and high winds associated with these storms are the most problematic. If your date happens to have some inclement weather being forecasted, try to choose the morning trip times as often conditions will still be quite nice as winds build through the daytime hours usually.
Make Sure Camera, Cell Phone, Or Video Device Is Charged.
Although there are outlets onboard the whale watching ships you may not realize that your device is out of power until you are in the middle of a breaching whale coming almost completely out of the water. To miss this incredible shot because your device is dead is a very frustrating experience. It is highly recommended to get a full charge for your cell phone and for devices requiring batteries it is best just to go with new batteries or close to new. Most whale watching cruises will have a photographer onboard as part of the crew and they are often happy to share their wealth of knowledge photographing these amazing mammals. Also being on the ocean there is more condensation and humidity so we recommend on the damper days either spending time in the indoor areas or covered seating areas with your device until mammals are being viewed.
What are some things I should bring onboard my whale watching cruise?
Bottle water which can be purchased onboard if easier than carrying it onboard.
Sun protection, such as sunscreen and sun glasses. During the longer days of the year those with fair skin can stay under the covered outdoor areas or indoor areas until mammals are being viewed to also limit sun exposure. San Diego is in the southernmost part of the US and the sun's rays can cause a not so fun sun burn in just 30 minutes.
Light jacket or sweatshirt on cooler mornings and evenings mainly in the winter and early spring months. Earlier trips even in the summer months can be cool with marine layer right along the beach that won't burn off until later morning.
Camera , Cell Phone, or Video Recording Device. Lots of great opportunities is a lot of fun to have on your whale watching cruise.
Cash or credit card if you want to purchase light snacks or drinks from the galley/kitchen. There are large indoor areas with amply seating and large windows to enjoy your food and beverage while taking in the scenery and wildlife.
Rent or bring binoculars. A nice addition binoculars enable the user to see the intricate detail of whales being viewed. How often can you claim to have seen a whale's eye or see what the sea lion is eating? Definitely, worth having and kids have a lot of fun with them.
For those of you that are prone to sea sickness there are couple tricks that will reduce or eliminate this concern. Seasickness meds such as Bonnie or Dramamine taken 1-2 hours before your cruise works almost all the time. Eating a high carbohydrate meal absorbs stomach acids and reduces chances of sea sickness. Eating before boarding or while traveling through the bay works great. Another option is wearing Sea-Bands which are a knitted elasticated wrist band, which works by applying pressure on an acupressure point on each wrist by means of a plastic stud. Because the bands do not use drugs, they do not cause any of the side effects associated with anti-nausea drugs and can be worn on each wrist whenever you feel nauseous. They are suitable for adults and children. Ginger ale and crackers are also available onboard and just ask on the crew and they can ensure you have both. Only a very small number of whale watchers will experience but is nice to know what to do in the event of.

Baleen Whales seen off San Diego:
Gray Whale (Eschrichtius robustus)
The Eastern Gray Whale is a large baleen whale typically seen off our coast during the Winter and Spring. It migrates between its feeding and breeding grounds each year and makes one of the longest annual migrations of any mammal. This incredible animal travels some 6,000 miles each way from its northern feeding grounds in the Alaskan Bering Strait down to its Winter breeding and calving grounds in the warm lagoons of Baja Mexico. Gray whales can reach about 49ft long and weigh up to 72,000lbs when they're fully grown. During the months of April-May we encounter Gray Whale Mom's and Calves heading back home which is always a special treat!
---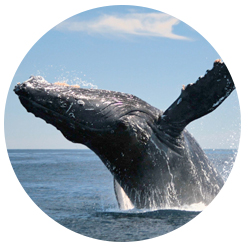 Humpback Whales (Megaptera novaeangliae)
The Humpback Whale is an extremely friendly and has been dubbed the acrobat of the whale world. Humpbacks can measure 40-50ft long (females are usually larger than males) and can weigh up to 80,000lbs when they're fully grown. They feed mainly on small shrimp-like crustaceans commonly known as krill, other zooplankton and small schooling fish like herring, anchovies, and sardines. Humpback whales are widely distributed over all the oceans from the poles to the topics, but there are distinct seasonal changes in their distribution. Here San Diego Visitors for whale watching can see Humpbacks during any month of the year. Newport Whales has been working diligently to help identify Humpback Whales in our area by photographing the underside of their tail fin or fluke. Each humpback fluke has a distinct marking, similar to a finger print, which can allow us to track who they are and where they go.
---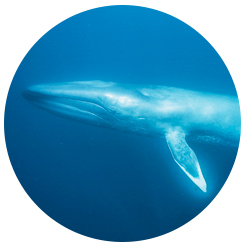 Blue Whales (Balaenoptera musculus)
Blue Whales are one of the largest animals to ever live! The average size of a Blue Whale is 80-90ft, with the largest recorded whale measured 110ft! Their heart is the size of a Volkswagen Beetle, and their aorta, a major blood vessel for the heart, is big enough for a human child to crawl through. Blue Whales are found in all oceans of the world. In the Pacific Ocean, they range from the Gulf of Alaska, which is an area rich in food, all the way to Costa Rica, where it is believed they migrate to bread and calve. Blue whales are currently listed as an endangered species with only about 2,500 left in the North Pacific population.
---
Toothed Whales seen off San Diego: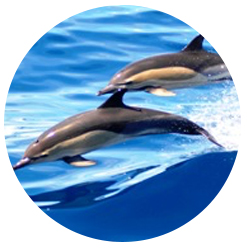 Common Dolphin (Delphinus delphis)
There are two species of Common Dolphin, the short-beaked common dolphin and the long-beaked common dolphin (both seen in here whale watching off San Diego). They are found in all the oceans of the world, and are widely distributed in warmer temperate and tropical waters. Both common dolphin adults range between 5 ft-5.5ft long, and can weigh about 300lbs when fully grown, with males weighing slightly larger than females. They are very fast swimmers, reaching speeds of up to 29 miles per hour, averaging about 100 miles per day. Dolphins have a unique adaptation called echolocation. They create a series of clicking sounds, made from a specialized organ under the blowhole called the phonic lips. These clicks are sent out of the melon and are used like an ultrasound machine. They bounce off objects, and the information is sent back to the dolphin to create an image.
---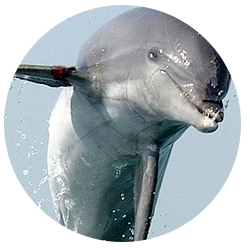 Bottlenose Dolphin (TursiopsTruncatus)
The bottlenose dolphins have a short stubby beak - hence the name "bottlenose." The common bottlenose dolphin is the most familiar of the family of whales and dolphins (cetaceans) because of its coastal occurrence around the world, its popularity on TV shows and movies, and its prevalence in zoos and aquariums. Adults range between 8-12ft long and may weigh as much as 1,430lbs in the male Bottlenose. These highly intelligent dolphins can reach speeds in excess of 18 miles per hour, and they have an average lifespan in the wild of about 30-40 years. Often seen surfing in the waves along San Diego.
---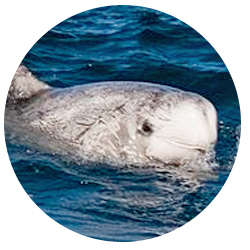 Risso Dolphin (Grampus griseus)
Risso's Dolphin are named after Antoine Risso, whose description formed the basis of the first public description of the animal. They are an unusual looking animal with a blunt head and a round body. They have very few teeth in their mouth, and these teeth only line the front of their lower jaw. They are typically grayish brown or pale white, depending on the age of the dolphin, which tend to get whiter with age. They usually weigh between 650-1100lbs and are about 10ft in length in the males. These animals primarily feed on squid, and when we have lots of squid and small fish in the area, these curious dolphin make an appearance.
---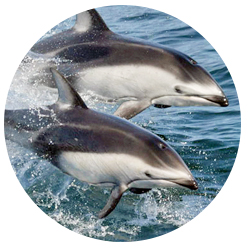 Pacific White Sided Dolphin (Lagenorthynchus obliquidens)
Pacific White-Sided Dolphin have a unique color pattern, attractively marked with gray, black and white. Its back is dark gray and, as its name suggests, its sides are light gray with thin, white stripes along the sides. These dolphin reach a length of 7-8 feet and weigh about 300lbs in the males. Pacific White-Sided Dolphins are extremely agile, acrobatic and social, and they are one of the only dolphin species which seem to enjoy the company of other whale and dolphin species. Generally traveling in groups of tens or hundreds of individuals, they can be seen in pods of over 2,000 individual dolphin.
Additional information about San Diego Whales and Whale Watching >>>
---

Attractions In San Diego For Whale Watchers
Sea World San Diego - Although orcas or killer whales are what they are known for they also have Beluga whales, bottlenose dolphin. Just viewing these animals is pretty amazing. Couple the huge array of marine creatures and exhibits and this absolute must see for a whale watching enthusiast in San Diego. Look online for discount tickets as there are numerous ticket websites that offer them.
Birch Aquarium - Great exhibits if not quite as visually stunning as Sea World. Their "Voices In The Sea" exhibit is great exploring an area the sounds of whales and their ability to communicate. Their global warming exhibit is also very eye opening. Another must see.
Cabrillo National Park San Diego - What is considered the birth place of whale watching world wide, there is so much to do and see here. One of the best shore based whale watching locations for viewing the grey whale migration in California. Come from December through March and chances are you will see a grey whale. Viewing from land is definitely different than by ship and you are completely at the mercy of the whales. So don't be too disappointed if the viewings don't compare to those from ship. The experience of viewing a whale from land is really unique. Also definitely check their website as they have events of all sorts occurring throughout the year (especially in the winter/spring months) many centering around whale watching. Their tidal pools are also great. Definite must see.
San Diego Zoo - Although there is not much in the way of marine mammal exhibits this world famous zoo is pretty neat. And for me viewing animals on land is as much fun as viewing them in the ocean. The wild animal park a part of the San Diego Zoo is very interesting especially the Kilimanjaro Safari Walk 2 mile hike. If you are whale watching in San Diego it would be a hard decision not to visit this.

Recommendations for lodging and hotels while whale watching in San Diego
Humphreys Half Moon Inn & Suites - (877)740-7134 - The Humphreys Half Moon Inn and Suites is a waterfront resort on Shelter Island, approximately three miles from San Diego International Airport. Humphrey's is located within 10 minutes' driving distance of SeaWorld, San Diego Zoo, beaches, and downtown. Mexico is roughly 20 minutes away. Hotel amenities include the tropical gardens, palm trees, and soothing waterfalls. Guests can enjoy the heated pool and spa, exercise room, city and bay views, lawn games, concierge assistance, room service, and award-winning restaurant and lounge.
The Pacific Terrace Hotel - (800) 344-3370 - Overlooking the white sandy beaches of San Diego, the AAA 4-Diamond awarded Pacific Terrace Hotel in San Diego, California, nestles between the sun and the surf, between Mission Bay and La Jolla. Relaxing and rejuvenating, the Pacific Terrace Hotel is conveniently located near some of the finest oceanfront dining, shopping and entertainment San Diego has to offer, providing a range from the fun, surfer Pacific Beach nightlife to the elegance of the world-renown Village of La Jolla.
Best Western Cabrillo Garden Inn - (619) 234-8477 - Within walking distance, guests can spend the evening at San Diego Copley Symphony Hall listening to the classics or enjoy an afternoon of shopping and fine dining in the Gaslamp District. The San Diego Convention Center, home of major conventions such as the Fancy Food Show and Comic-Con, is only one mile from the hotel. Guests will also enjoy wandering through Balboa Park, visiting the San Diego Zoo or just relaxing on the beautiful beaches of Coronado. The Best Western Cabrillo Garden Inn is also minutes from the cruise terminal, ideal for guests leaving or arriving from an ocean adventure. Other nearby attractions includes the San Diego International Airport, Seaport Village and the USS Midway Aircraft Carrier.
Hyatt Regency La Jolla - (858) 552-6066 - Discover the many facets of Hyatt Regency La Jolla at Aventine and enjoy a seaside destination with the charm of a European village and the panache of Southern California. Located in the city known as "The Jewel of the Pacific", our stunning La Jolla hotel offers incomparable beaches, shopping, dining, galleries and attractions. Visit Stephen Birch Aquarium & Museum, spend a day kayaking, take a Baja Lobster or Wine tour, see live theater or shop San Diego's trendy boutiques; all just minutes away.
California Suites Hotel - (800) 562-2217 - Welcome to California Suites Hotel, one of the prime options amongst budget San Diego motels and hotels. Not only do we offer one of the most competitive prices for vacation rentals and lodging in San Diego, but we are conveniently located, only 15 minutes away from San Diego International Airport, San Diego Zoo, Sea World, major shopping centers and white sandy beaches.
Crystal Pier Hotel - (858) 483-6983 - Though called a hotel, this wonderful property is actually a collection of 26 cottages built out on a pier. Most of these temporary travelers' homes were built back in the 1930s; all of them have been renovated in recent years. You'll wish you could just move right in, since each cottage has its own bedroom, living room, patio and kitchen. With parking just outside your door, it would be hard to find more cozy convenience at any other hotel in the area. From sunrise to sunset, you'll enjoy a view of the ocean and the waves that few others will ever see. Rates are seasonal.
The Westgate - (619) 238-1818 - The Westgate, San Diego's premiere hotel continues to deliver on its original vision of classic luxury. Acclaimed as San Diego's finest hotel, the Westgate, is beautifully appointed with exquisite European luxuries throughout. Located in the heart of downtown San Diego, steps away from the trendy Gaslamp Quarter, fashionable shopping and historic Balboa Park. We look forward to making your stay memorable.
Marriott Hotel & Marina - (619) 234-1500 - Spectacular waterfront settings in the heart of America's Finest City, the San Diego Marriott Hotel & Marina truly represents the best location for business and pleasure. Conveniently located adjacent to the San Diego Convention Center and within walking distance to downtown San Diego and the Gaslamp District. San Diego features 92 golf courses, exciting spectator sports, luxury spas and gaming, a dynamic downtown District that features annual special events and unique holiday offerings, and much more. Popular attractions include the world-famous San Diego Zoo and Wild Animal Park, Sea World San Diego and LEGOLAND California. With a 446-slip marina, just steps from our San Diego, CA, hotel, our guest rooms reflect the spirit of our setting and boast sweeping bay views. Offering 1,362 spacious guest rooms and suites our downtown San Diego hotel rooms are richly appointed in a cool, coastal theme décor. Immerse yourself in our vibrant downtown San Diego, CA hotel at the San Diego Marriott Hotel & Marina.
Omni San Diego Hotel - (619) 231-6664 - With miles of sandy beaches and an average 70-degree year-round temperature, it's no wonder San Diego is a premier travel destination. The four-star Omni San Diego Hotel is one more reason to visit this fabulous seaside city. Nestled in the heart of the historic Gaslamp Quarter across from the Convention Center, the Omni San Diego Hotel puts you close to the city's top sites and attractions. Explore Balboa Park, take a harbor cruise or catch a Padres baseball game at PETCO Park, connected to the hotel via a pedestrian skywalk.
Catamaran Resort - (800) 422-8386 - Welcome to an experience that awakens the senses, relaxes the body and soothes the soul. Think paradise, and exotic tropical pleasures come to mind. Explore hidden gardens of over 1,000 types of eclectic plants and flowers, exotic birds, 100 varieties of palm trees, and 30 types of hibiscus. Surround yourself with striking sunsets, the splendor of secluded sandy beaches, and the sights and sounds of nature all in one place.
Embassy Suites - (858) 453-0400 - The concierge and reception desks are next to a tropical atrium lobby soaring the full height of the hotel and filled with koi ponds, waterfalls, and lush foliage. Located across from a shopping mall and five miles from La Jolla, the hotel attracts both those with business in the area and vacationers. An indoor pool, sauna, and fitness center are complemented by an outdoor spa tub and sundeck. Wireless Internet access is available throughout the hotel (surcharge), including the lush atrium lobby where complimentary daily buffet breakfast is served and nightly manager's receptions are held. Adjacent to the hotel, University Towne Center houses many shops and department stores, as well as a food court that surrounds a public ice-skating rink.
Doubletree San Diego Del Mar Hotel - (858) 481-5900 - With its Pacific breezes, convenient location and stylish Sweet Dreams® guest rooms, the Doubletree Hotel San Diego/Del Mar is the ideal location for your next business trip or family vacation. The Doubletree Hotel San Diego/Del Mar is close to world-class, championship golf courses, some of the best Southern California beaches and top southern California attractions such as the San Diego Zoo and Wild Animal Park, Legoland and the Del Mar Thoroughbred Club. In addition to a friendly and caring staff who will strive to ensure you have a pleasant stay, the hotel offers amenities such as a resort style swimming pool that includes hot tub and children's pool, an exercise room, a business center, meeting and event space and Sydney's restaurant, featuring French and Italian-infused California cuisine. And don't forget the famous warm Doubletree chocolate-chip cookie upon check-in
Ocean Park Inn - (858) 483-5858 - Stay at the Ocean Park Inn and see for yourself why San Diego is known as America's finest city. Superior location, year-round sunshine, incredible ocean views and an abundance of activities are only a few things this contemporary San Diego inn has to offer. Surrounded by some of the best dining and shopping in Pacific Beach, this hotel is only minutes away from the upscale village of La Jolla, historical Gaslamp Quarter, and many attractions including the famous San Diego Zoo, Legoland, Indian Gaming Casinos, Wild Animal Park, Balboa Park and San Diego Aerospace Museum.
Surfer Beach Hotel - (866) 251-2764 - Welcome to Surfer Beach Hotel! Our beachside lodgings offer an affordable vacation experience coupled with a retro-chic, boutique hotel sensibility. You'll find dozens of attractions, including SeaWorld and the San Diego Zoo, just minutes away. We offer standard guest rooms, one-bedroom suites, and two-bedroom suites.
The W San Diego - (619) 398-3100 - Welcome to W San Diego, where summer never ends. Explore our new redesigned surf-inspired Living Room lounge, poolside Veranda bar and Wet pool deck. Sip on a cocktail at our rooftop bar, Beach, featuring a sand floor with intimate cabanas and stunning skyline views or romance your taste buds at Rice.
Whale watching coupons for San Diego visitors. Save 60% with this $16 whale watching cruise special. Newport Landing's San Diego whale watching coupon is a great offer that can be used on any of our whale watching & dolphin cruises. The whale watching cruise coupon is valid for up to 10 persons per coupon and is valid for any of our 2.5 hour whale watching cruises offered year round multiple times daily departing from Newport Beach. View the annual gray whale migration during the winter and spring months and the giant blue whales during the summer and fall months.
---
DEPARTURE TIMES
| Dates | Cruise 1 | Cruise 2 | Cruise 3 | Cruise 4 |
| --- | --- | --- | --- | --- |
| Nov - Feb (Mon - Fri) | 10:00 am | 1:00 pm | n/a | n/a |
| Nov - Feb (Sat & Sun) | 9:30 am | 12:00 pm | 2:30 pm | n/a |
| Mar - Oct (Daily) | 10:00 am | 1:00 pm | 3:30 pm | 6:00 pm* |
PRICES
| Age | Weekday | Weekend/Holiday |
| --- | --- | --- |
| Adults (Ages 13 - 59) | $34.00 | $38.00 |
| Juniors (Ages 3 - 12) | $28.00 | $32.00 |
| Seniors (60+) | $28.00 | $32.00 |
| Toddlers (Ages 0 - 2) | Free | Free |
---
San Diego Whale Watch Visitors $13 Special, Reserve Today!
Newport Whales runs whale watching excursions multiple times a day seven days a week all year long. Along with viewing Whales you can expect to see dolphins, sea lions, marine birds, and other neat marine creatures. Please try to arrive at least 30 minutes before your cruise departure time. Need help with directions or parking or for making reservations on cruises less than 24 hours away, please give us a call (949) 675-0551.
BOOK ONLINE BELOW FOR $13 SPECIAL
OR CALL (949) 675-0551 AND MENTION PROMO: 13WHALES
SPECIAL PRICE DOES NOT APPLY TO LUXURY CRUISES OR ULTIMATE WHALE WATCH
---
SHARE
FOR RESERVATIONS, CALL (949) 675-0551